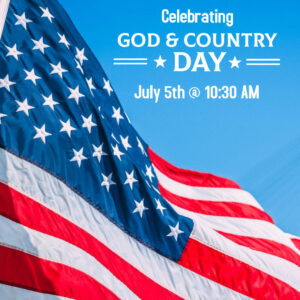 God & Country Day
Guest Speaker: Lt. Col. Mark McDaniel
Come join us as we celebrate our God & Country. We will have Lt. Col. Mark McDaniel bring the message during the morning service.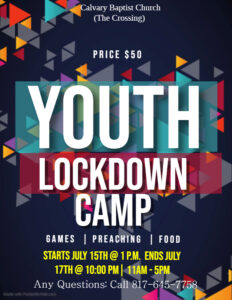 Youth Lock Down Camp
July 15th -17th
We are going to host Youth Camp @ Calvary Baptist Church. There will be Games, Preaching, Food Served, and Much More. Price is 50 Dollars.
You will also spend the night at the church Wed Night and Thur Night.
Any more questions please contact the church office.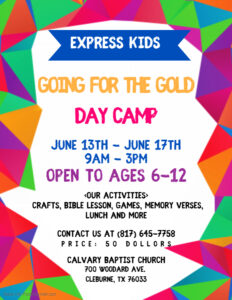 Going for the Gold Day Camp
July 13th – July 19th @ 9 A.M. – 3 P.M.
We are having a day camps at Calvary Baptist Church for our 6-12 year old kids. The price is 50 Dollars. We will be having Crafts, Bible Lessons, Games, Memory Verses, Lunch Provided and more.